UTokyo-NTU Joint Workshop for Young Sociologists 2023
"The Power of Sociology in Post-COVID East Asia"
Date and Time
March 3 (Fri), 2023
Venue
College of Social Sciences, National Taiwan University
Title
UTokyo-NTU Joint Workshop for Young Sociologists 2023
"The Power of Sociology in Post-COVID East Asia"
Speaker
George Zachary GONZALES, Chih-Heng SU, Hsin-Chou TSAI, Alleson II Decena VILLOTA, Yu-Hsin CHEN, Atsujiro FUJIMOTO, Yi-Li LIAO, Minato SUZUKI, Ting-She CHANG, Yu-Tung CHEN, Takumi MIWA, Yi-Ching HUANG,

Chair
Kuo-Hsien SU and Shigeto SONODA
Language
English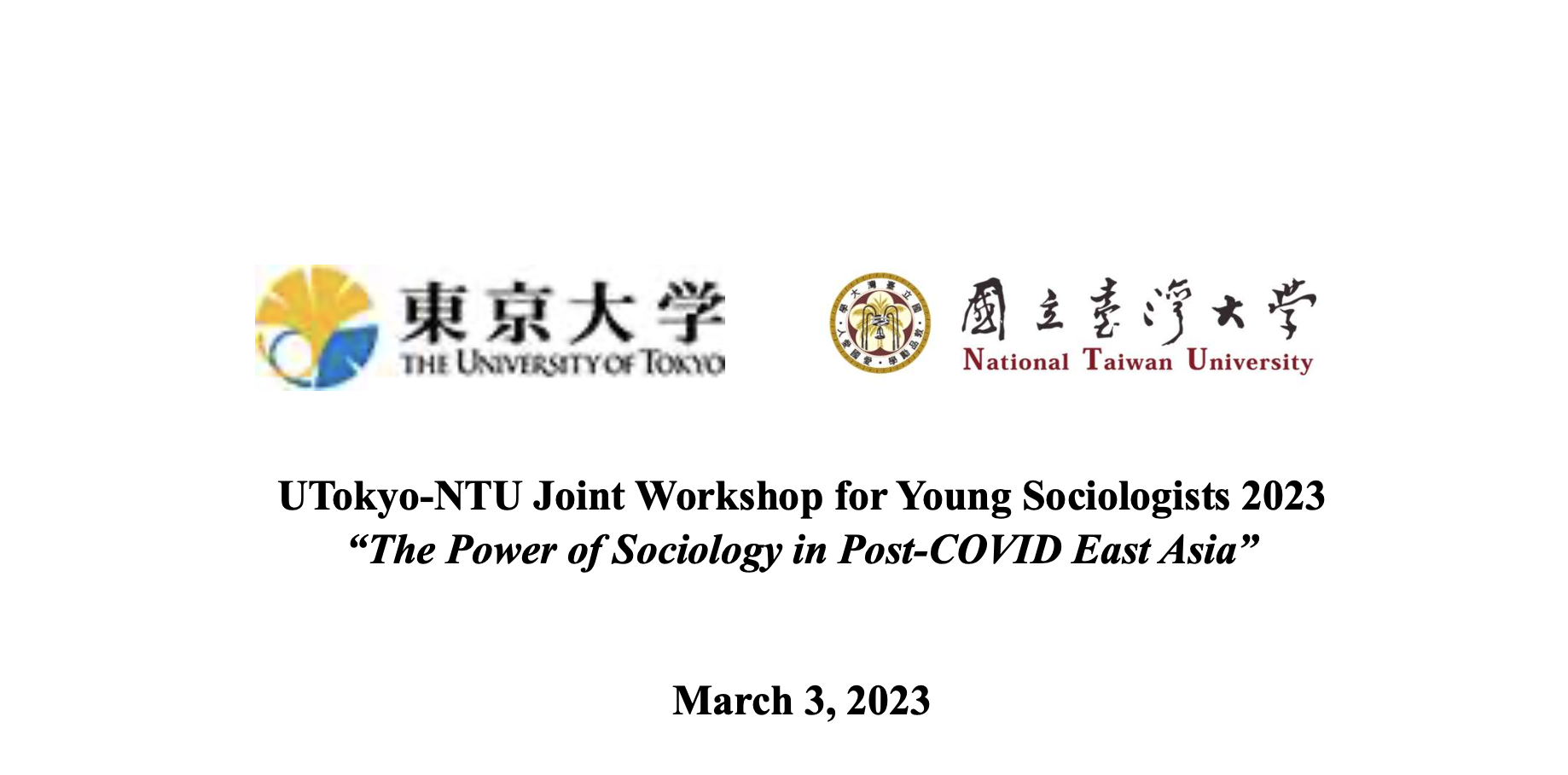 Event Report
Joint Workshop was held at NTU on 3rd of March, 2023.
Six students from both National Taiwan University and the University of Tokyo physically gathered and participated in the join workshop titled "The Power of Sociology in Post-COVID East Asia."  This event originated from university-level NTU-UTokyo joint summer program in 2012 when participants in the program presented their findings of their group research activities. From last year, this event was transformed to college(institute)-level program, started to focus on current social issues in East Asia and beyond.
As such in-person international meeting had not been held for longer than three years due to the COVID, students as well as professors rediscovered the importance of exchanging ideas in a face-to-face situation, more interactive way. Global Asia Research Cluster (GARC) in NTU and GAS in UTokyo will start to substantialize our collaboration to promote Global Asian Studies in Taiwan and Japan and beyond.
| | |
| --- | --- |
| Organizer: | GAS Program, Institute for Advanced Studies on Asia, the University of Tokyo |
| Co-organizer: | Department of Sociology and Global Asian Research Center (GARC) at the College of Social Sciences, National Taiwan University |
| Contact: | gas[at]ioc.u-tokyo.ac.jp |