Call For Applicants
GLOBAL ASIAS CYBER CHAT Series by Global Asias Initiative at Penn State University
Date and Time
[Cyber Chat 1]
25 April 2023, 8:00~10:00 AM (Japan Time) / 24 April 2023, 19:00~20:00 PM (EST)
[Cyber Chat 2]
14 June 2023, 8:00~10:00 AM (Japan Time) / June 13 2023, 19:00~20:00 PM (EST)
Venue
Online via Zoom
Title
Global Asias Cyber Chat 1: "Challenges and Opportunities for Global Asias Approaches to Japan Studies"
Global Asias Cyber Chat 2: "Migration, Identity, and Diasporas at the Intersection of Japan Studies and Global Asias"
Language
English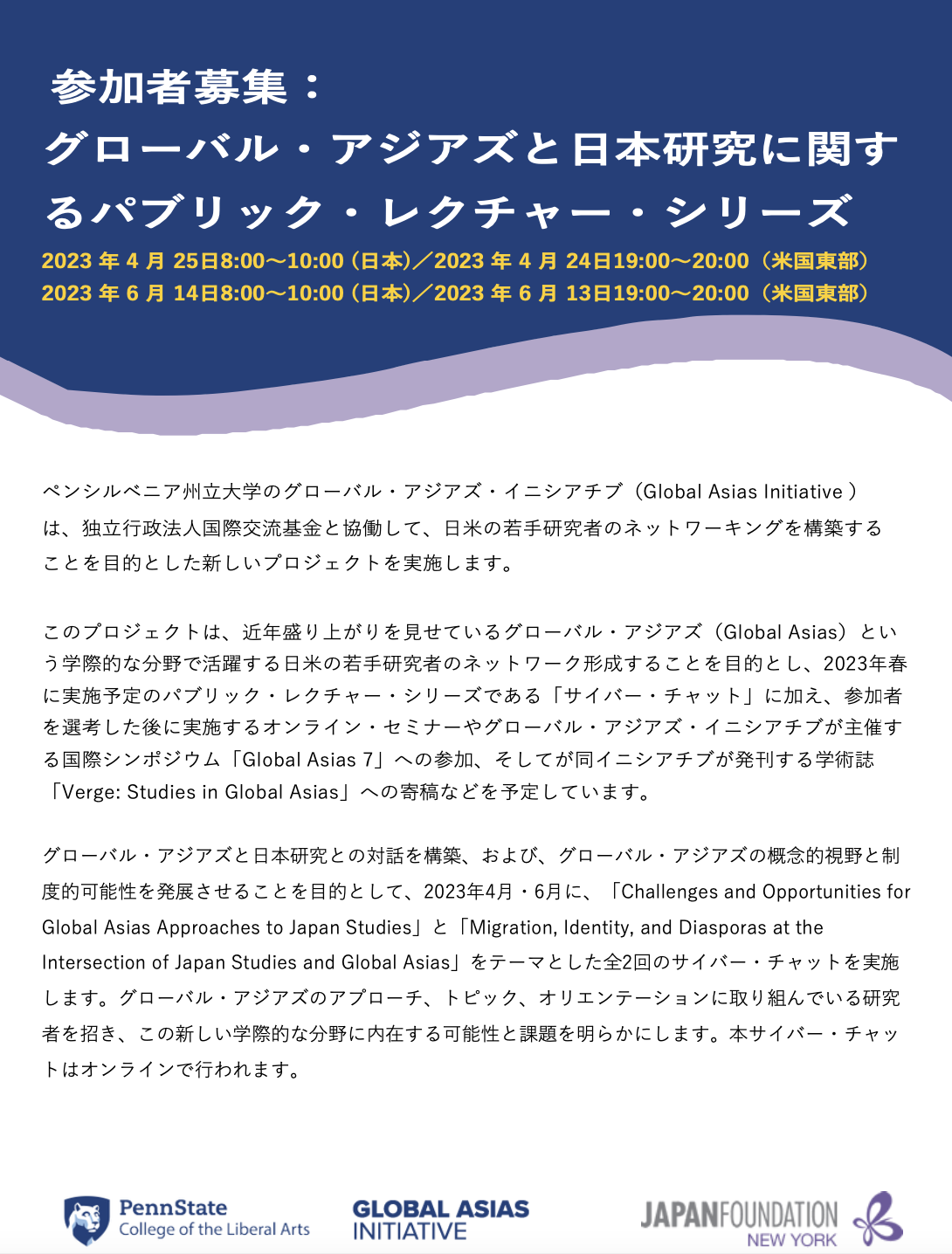 How does the concept of Global Asias encourage you to navigate the epistemic expectations of, and generate alternatives to, the disciplinarity of Japan Studies?  What are some of the challenges/obstacles in Japan Studies to enacting Global Asias scholarship using interdisciplinary, or multidisciplinary, approaches? What kinds of tools and resources need to be developed to address the challenges/conflicts/disagreements that inevitably arise as part of Global Asias as a collaborative scholarly enterprise related to Japan Studies?
Academic disciplines — like Japan Studies — come with their own methodologies, assumptions, canons, and lineages of received wisdom. Thinking across disciplines — such as is required by multidisciplinary approaches like Global Asias — requires deep listening, some relinquishment of expertise, and an openness to ways of thinking otherwise. GAI will provide all Cyber Chat participants with a year-long Project Muse subscription to Verge: Studies in Global Asias, so that they can become more familiar with the field.
We would love to be in conversation with you and look forward to using these Cyber Chats to create collaborative spaces for people to think through these issues together. This is an open format conversation via zoom but to limit the size of the group we will use an application process.
ペンシルベニア州立大学のグローバル・アジアズ・イニシアチブ(Global Asias Initiative )は、独立行政法人国際交流基金と協働して、日米の若手研究者のネットワーキングを構築することを目的とした新しいプロジェクトを実施します。このプロジェクトは、近年盛り上がりを見せているグローバル・アジアズ(Global Asias)という学際的な分野で活躍する日米の若手研究者のネットワーク形成することを目的とし、2023年春に実施予定のパブリック・レクチャー・シリーズである「サイバー・チャット」に加え、参加者を選考した後に実施するオンライン・セミナーやグローバル・アジアズ・イニシアチブが主催する国際シンポジウム「Global Asias 7」への参加、そしてが同イニシアチブが発刊する学術誌「Verge: Studies in Global Asias」への寄稿などを予定しています。グローバル・アジアズと日本研究との対話を構築、および、グローバル・アジアズの概念的視野と制度的可能性を発展させることを目的として、2023年4月・6月に、「Challenges and Opportunities for Global Asias Approaches to Japan Studies」と「Migration, Identity, and Diasporas at the Intersection of Japan Studies and Global Asias」をテーマとした全2回のサイバー・チャットを実施します。グローバル・アジアズのアプローチ、トピック、オリエンテーションに取り組んでいる研究者を招き、この新しい学際的な分野に内在する可能性と課題を明らかにします。本サイバー・チャットはオンラインで行われます
Full details are available here.
| | |
| --- | --- |
| Organizer: | Global Asias Initiative, Penn State University |
| Co-organizer: | Japan Foundation New York |